Finally Learn Watercolor in a Simple Way
You've watched YouTube tutorials and read blogs about how to watercolor but you feel more confused than ever.
You're tired of trying to piece together how to paint with watercolors on your own, without guidance.
You wish someone would just take you by the hand and guide you through each step. You wish you could ask specific questions and get some real feedback.
What if a month from now you were able to say you have mastered the medium of Watercolor?
Imagine how it would feel to finally paint what you want and actually feel confident in the process.
Imagine that instead of buying cards, gifts, and home decor, you can create your own.
Imagine being connected to others who are on the same journey with you… all committed to learning the art of watercolor, cheering you on as you create beautiful things to share.
But So Many Things Get In the Way!
Supplies
There are so many choices! You want quality supplies but don't understand what the means.
Should you buy the most expensive or would a student grade do?
You just want someone to explain it all in a way you understand!
Time
Trying to find the right tutorial and learning where to start feels OVERWHELMING!
There are so many ways to go, you just don't know where to start. Once you do find the perfect tutorial, your time is gone!
You need a plan to follow that you can fit into your schedule.
Skills
You see something you want to paint but it never seems to turn out the way you want.
You want to create a piece of art you are proud of, but don't feel like you have the foundational skills to make that happen.
You feel frustrated and defeated every time you try.
YOU'RE READY TO LEARN BUT YOU HAVE A LOT OF QUESTIONS!
How do I even start with all of the different techniques?
I don't know how to draw, can I really paint something I'm proud of?
It seems really complicated, can I really do this?
I know there can be a lot of questions and confusion when you're starting to paint for the first time. If you don't have a plan to follow, it can be easy to make some critical mistakes, get off track and never master watercolor. Without guidance and support, it can be difficult to make any progress at all!
That's why I created Watercolor School!
YOU CAN MASTER WATERCOLOR and I can help!
Watercolor School is an online membership designed to help you learn the basics FAST so you can quickly become a more confident artist. You will learn the foundational skills you need and continue to grow as you pick and choose from 60+ projects (and more added regularly). Watercolor School breaks everything down and makes learning watercolor SIMPLE so you can relax and have FUN!
What's Included?
150+ Painting Tutorials

You'll have instant, unlimited access to over 150+ video lessons (and counting) to watch anytime, anywhere on any device

We'll start with the basics and continue on together giving you a solid foundation you can use on every project that will guarantee success!

We're always adding new courses and projects to Watercolor School so you'll always have fresh, new projects to keep you motivated and learning.

Traceable Sketches

Absolutely no drawing skills are required in these courses. You'll always have instant access to our vast library of traceable sketches so you can get right to work learning how to paint.

It's our version of Paint by Number except with Watercolor Painting!

Simple Techniques

You don't need to be a "natural artist" to get beautiful results. I've taken all of the guesswork out so you'll learn as you have fun creating something you'll be proud of.

I also have you working on projects right away and not working for multiple lessons on the basic techniques.

Learning on the go is one of the best methods to get the best hands-on experience.

Supplies Lists

In Watercolor School, my goal is to demystify watercolor supplies for you.

You'll learn all about what is important when picking supplies and how to find real deals when you head to the arts/crafts store.

I'll show you all of my favorites and give you a detailed list with links so you can purchase online or print and bring with you to the store.

Self-Paced Courses

Start, skip or re-watch again and again. You decide how fast or slow you'll go.

All courses in Watercolor School go at whatever pace you need.

You also have unlimited access to everything in Watercolor School, for as long as you are a member. This will allow you all the time you need to explore and learn different techniques.

Support

You'll get access to our private Facebook group where you can ask questions, find support, meet other members from all over the world, and share your art!

I am available in this group almost daily to give feedback and answer any questions you may have.

It's also a great place of inspiration from other students.
Your life BEFORE enrolling in Watercolor School:
You're overwhelmed by all of the different tools and techniques.
You never know what kind of brushes, paper and paints to use.
You struggle with how much water to add or take away when painting with watercolors.
You are worried that you'll make a mistake and ruin your whole painting.
It feels like you can never make your painting look like you want it to.
You are longing for a creative outlet that will fill your bucket and bring you joy.
It seems impossible to find a community of like minded women who want to learn how to paint just as much as you.
Your life AFTER enrolling in Watercolor School:
You understand the ingredients that make up quality paint, brushes and paper.
You know what kind of supplies to look for and even how to get them for less than advertised.
You feel confident in your painting because you understand the foundational techniques: water to paint ratio, wet on wet, lifting (or erasing) paint, layering, blending, brushstrokes, and so much more.
You are able to create beautiful paintings for your family, friends and, of course, to hang in your own home.
You've even learned how and where to sell your art to earn extra money doing something you love.
You've met new friends from all over the world who are cheering you on as you grow in your art.
What Courses Are Included?
Watercolor School Curriculum
Check out the Free Previews below by clicking on any lesson that has a PREVIEW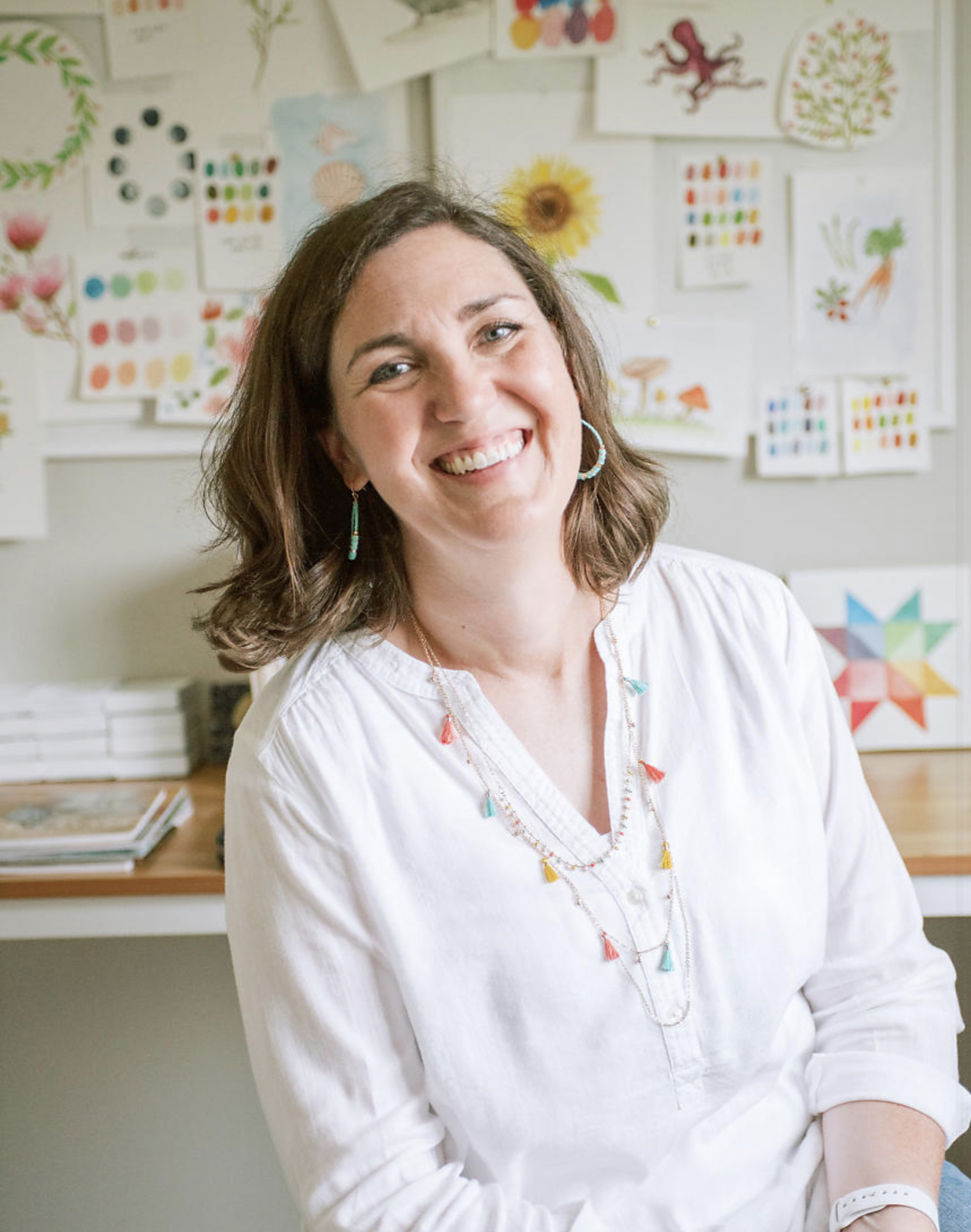 As a working artist, mother and teacher I have seen art transform lives of both young and old. I believe art is a powerful tool that creates bonds, says what we cannot say, and helps us notice the beauty that exists all around us. I'm passionate about helping women and children grow in their creativity and I believe one of the best ways to do this is through the amazing medium of watercolor. When I'm not painting I write about creativity, nature, intentional motherhood, and mindful family life at LilyandThistle.com. I also make paper dolls!
Frequently Asked Questions
Who is this course for?
Watercolor School can be adapted for all ages! I've taught people from the ages of 5 to 97 how to paint with watercolors. With templates for nearly all of our paintings, it makes it easy for any age to follow along with the tutorials.
How do I access Watercolor School?
You will have access to everything in Watercolor School directly in Teachable. Teachable is an easy-to-use online learning portal that keeps track of your progress so you can easily start and stop at any time. You can access this course at the Lily & Thistle Teachable Creative Studio (https://lily-and-thistle-studio.teachable.com/courses/).
What kind of art supplies will I need to get?
I've spent months researching the best supplies at the best price point for beginners. I will give you a complete list with links for your convenience and suggestions of where to buy to get the best deals. Most projects will use the same set of paints and a handful of brushes so you won't have to worry about always buying more (unless of course you have an art supplies addiction like I do!) Check out the supplies list here.
When does the Watercolor School begin and end?
The courses inside Watercolor School are completely self-paced. That means you can start anytime you want and take all the time you need to complete it. I would suggest that you try to make time for regular practice so you can be successful but, many of the projects can be completed within a hour.
Do I get lifetime access?
You have options! You can choose to purchase Watercolor School Lifetime Access which gives you access forever, or you can choose our membership option which gives you access to ALL of the courses we offer for as long as you are a member. If you choose to cancel your subscription option, then you won't have access to any of the courses. If you want keep any of the courses forever, you will need to purchase the Lifetime Access.
What is the time commitment required each week?
There are no required time commitments in Watercolor School. However, I would suggest regular practice of 1-2 hours per week. Practice makes better so of course the more you practice, the better you'll get!
Do I need art, painting, or drawing experience to enroll?
No – and that's the beauty of all of my courses! I make sure that everyone can be successful, no matter their art background. I provide templates for almost all of the projects so you won't have to stress about the drawing aspect. Plus I always have step-by-step video tutorials to guide you through each painting. If you already have experience with watercolors these courses are also for you! It will further your education and provide an exploration of more paintings and watercolor techniques!
What kind of support will I get?
After signing up, you will get instant access to the Watercolor School private Facebook group. Here you can ask questions, post discoveries and share with the private community. You can also always reach out to me via email if you have any pressing questions or concerns. I am here to help and cheer you on!
What is the refund policy?
I would never want you to be unhappy! If you not satisfied with the course, please contact me within the first 14 days and I will provide you with a full refund.