A monthly subscription that will give you everything you need to make art and nature study a FUN and DOABLE part of your family life!
With your membership to the Nature's Art Club, you get the framework and support you need so your family can get to the fun part: painting and learning about art and nature at home.
No planning and no searching for the perfect project to get your kids engaged. It's all here, ready for you to use, designed so that making art and precious memories with your family will feel fun and effortless.
Here is a small sampling of some of the watercolor paintings that are a part of Nature's Art Club.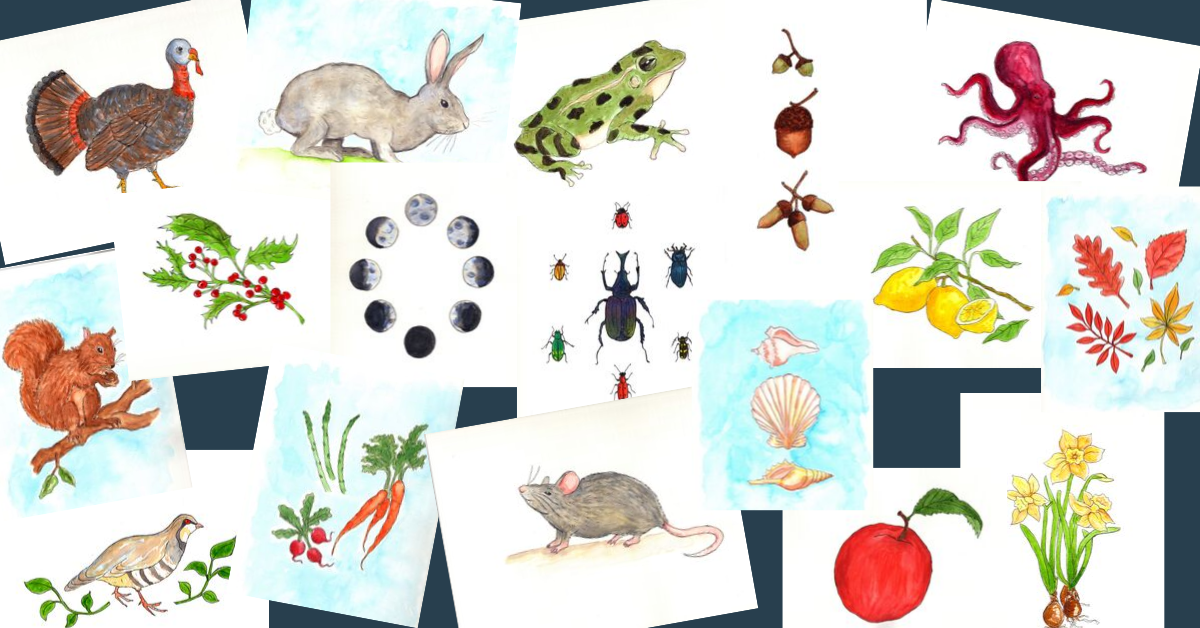 FAQ
How do I access the subscription?
Right here at the Lily And Thistle Creative Studio on Teachable.com. Each month you will be emailed when the content is updated so you can access the tutorials and materials.
So what exactly is included in my membership each month?
Each month you will get to discover or rediscover two natural friends (usually one plant and one animal). For each subject, you'll have access to the following:
A watercolor project for each subject complete with a step-by-step watercolor instruction sheet and a finished picture to use for reference as you paint
An outline template for each subject to trace so you can get right to painting
A video tutorial (so you won't have to go searching for it on YouTube)
Coloring pages so little ones can color while you paint (or vise versa!)
Fact sheets full of great information about each subject to help you discover new things together
Fun and engaging video links so you can just click and watch (no more searching for the perfect video…we did that for you)
An original poem that will warm your heart and make your kids smile
A nature exploration page with questions that will help you and your kids learn to stop, observe, engage in nature, and make exciting discoveries.
You'll also have access to our private Nature's Art Club Facebook group where you will find support, meet other members from all over the world, and share your art and nature finds!
What kind of art supplies will I need to get?
We've spent months researching the best supplies at the best price point. When you subscribe, you will have access to the list complete with links for your convenience. To do the watercolor projects, you will only need to buy a small watercolor paint set, two brushes, watercolor paper and an optional pen. Every project will use the same supplies every time so you won't have to keep buying more! You can checkout the supplies list here.
Can I use this with my whole family?
Yes! Each membership to the Nature's Art Club is intended for one subscription per family. Simply login to the Nature's Art Club on Teachable and begin to walk through the watercolor painting lesson with your kids, print out the additional materials, or learn more from the educational content provided.
What age group is this for?
The Nature's Art Club can be adapted for all ages and stages! When creating this product we tried to imagine a mother sitting with her children around the kitchen table. The mother we imagined has an 11 year old daughter who really wants to learn to watercolor but also a 5 year old who would rather color with crayons. She can decide to join in or to just let each child do their own thing. All of the items provided in the subscription can satisfy the needs of children at different stages of life – even teenagers (watercolor tutorials, templates to trace, coloring pages, etc.). She can also ask a child to share some of the fun facts that are included, they can watch the video links provided or they can all read the included nature poem together.
What kind of support will I get?
You will automatically get access to the Nature's Art Club private Facebook group. Here you can ask questions, post discoveries and share with the community. You can also always reach out to us via email if you have any pressing questions or concerns.
Can I use this with a class of students?
Yes – we would love for you to use this with a class!! There are pricing plans available for small, medium, and large groups. Small groups are one login access for use up to 5 families. Medium groups are one login access for use up to 15 families. Large groups are one login access for use up to 30 families. Your purchase is a one-time payment for 12-months of curriculum access from September 2019 to August 2020. The content is released each month in the Teachable course with downloads available of the content to be printed. Each year you would purchase a new curriculum package as this is a not an auto renewal. Please reach out to [email protected] if you need more assistance and we can help you get access and get started. This curriculum would be perfect for homeschooling co-ops and other homeschooling groups.
Your Instructor